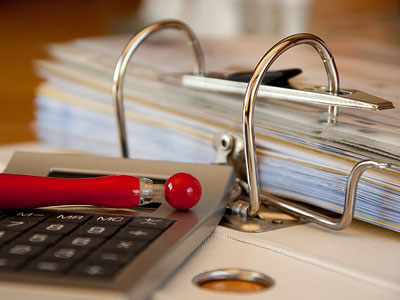 Tax Navigator's tailored bookkeeping solutions make life easier for London business owners.
Don't let running your small business take over your life. Our specialist accountants will handle all of your accounting paperwork and track all of your day-to-day financial transactions.
Whether you're self-employed or operate your own small business anywhere in the UK, we'll help you avoid costly errors in the accounting process. That's as well as taking all of the time and effort of preparing your annual accounts and business reports off of your hands.
It's Outsourced Bookkeeping for Any Size of Business
Most sole traders and small businesses do not require a full-time bookkeeper. The level of activity and scope of your financial transactions simply don't require that kind of commitment. A couple of hours every week or so might be able to handle all of your finances.
That's why we provide services at a straightforward hourly rate. You'll have the same access to professional input and specialist accounting software as any major business. But without anything tying you down.
Of course, if you need something a bit more robust, we also offer all-in-one packages. You will always be able to find the right solutions for your business.
Online Accounting and Bookkeeping Services Explained
Whether you choose to use an online (cloud-based) or an offline computerised bookkeeping system, we'll ensure that every financial transaction you make is accurately recorded in a timely manner.
After all, your account management, the preparation of financial statements and tax return declarations depend on comprehensive and competent bookkeeping.
The Hallmark of Bookkeeping Services in London:
Access any and all bookkeeping services you might need in London and elsewhere in the UK safely and securely. Tax Navigator's list of accounting and bookkeeping services include all data entry and processing tasks related to payment and purchase documents, as well as the preparation of those financial documents themselves.
For small and medium businesses in every industry in the country, we're one of the go-to choices. Whether you need a specialist to handle your creditor reports or just to process your standard weekly cheque payments, our outsourced accounting services mean you can always call in the expertise you need. Here is what we do:
Entering data and processing of:
Sales documents (invoices)
Payment documents (expenses)
Purchase documents (bills)
Cash receipts
Preparation of financial documents:
Cheque payments
Preliminary balances
Bank reconciliations
Debtor reports
Creditor reports
Why Use Outsourced Accounting Services?
Picture running your business without the hassle of balancing the books and other accounting paperwork. Imagine just having affordable on-call accounting expertise. As and when you need it.
Use Tax Navigator and let accounting outsourcing transform the way your business works. Say goodbye to books-related stress and hassle. And hello to frictionless record-keeping delivered by qualified professionals.
Communicate On-Demand
Speak with the qualified accountant carrying out the stellar work you need to have handled any time you need to. Get a fast response over the phone, by email, or via social media. Whatever fits in with the way you like to run your business – and your life.
We are all about building strong, honest, open relationships with our clients. When you need to speak with an accountant you can trust, it's time to get in touch.
Count on Some of the Most Competitive Bookkeeping Prices in London
Save the money you would be spending on expensive in-house accounting – and on many outsourced options too. Some outsourced bookkeeping rates in the UK are a threat to your bottom line in and of themselves.
Tax Navigator provides our clients in London and the rest of the UK with competitive prices that lets you keep your books in order. Without worrying that you are adding an extra burden to your finances.
Get the Flexibility You Need from Your Bookkeeping Company
Self-employed window cleaners. The family business. SMEs in every field. Tax Navigator is the bookkeeping company of choice for a huge range of clients.
Our flexible services ensure that you never pay for more than you need. Whether the accounting expertise you require would add up to an hour or two of work every few weeks. Or your demand is much higher. We make sure that you get only what you need. When you need it.
Why Else Use Our Online Bookkeeping Services in the UK?
Focus on what matters

You are the expert in your field. We are the experts in ours. Spend your time most productively by concentrating on the tasks you know how to do best. Our outsourced bookkeeping services give UK and London business owners maximum value from their hard work.

Use your resources wisely

No more personal or staff time wasted on your accounting. No more record-keeping tasks put off because of absence, sick days, or busy times either.

Xero accounting services

Our Xero-accredited accountants will get you up to speed with this online tool in no time. You'll then be able to monitor all of your accounts from minute to minute.
____
Explore How Tax Navigator's Outsourced Bookkeeping Simplifies Running Your Business
Find out how outsourced bookkeeping will help make running your business that much easier. Tax Navigator's experienced and helpful team are standing by. Contact us for a commitment-free chat today.
You can read some of our UK customers' reviews below: